Office Troffer Retrofit Kit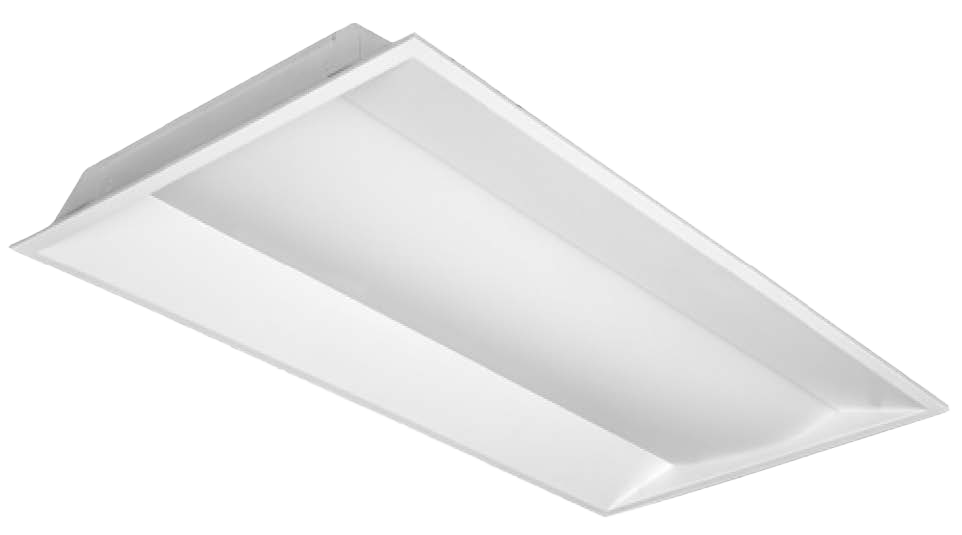 The Office Troffer Retrofit Kit is a universal retrofit package that allows LED light engines to be incorporated into any existing luminaires of standard 1x4, 2x2, or 2x4 dimensions. The design allows fixture housings to be retained while efficient LED light drivers take the place of conventional lamps. The savings in man-hours for disposal and installation are significant, while also allowing businesses to reap the benefits of high efficacy lighting. The Kit's T-bar design provides the highly flexible framework by which the Kit LEDs are fixed within existing luminaires.
Compared to complete reinstallations, retrofits with the Office Troffer Retrofit Kit offer extremely quick turnaround, using much smaller installation crews. This has been an important consideration for our customers for whom time is mission critical, e.g. corporate offices, schools, and healthcare facilities.
Download Cut Sheet
Optics
The retrofit kit is available in color temperatures of 4000K and 5000K. The CRI is a class-leading 85+ and creates excellent visual acuity.
Electrical
Luminous efficacy is a superior128 Lm/W with a power draw of 40W. L70 is an excellent 156,000 hours.
Mounting
The LED retrofit kit can be installed by hand in a matter of minutes. Any standard-sized fixture can accommodate the Kit.
Construction
The Office Troffer Retrofit Kit features a sheet metal design which allows swift installation without the use of any additional tools. The package's T-bar design allows for flexible and intuitive adjustments to fit. The polycarbonate diffuser creates bright and consistent light output matching in quality that of dedicated LED troffers and panels.
Sample Order:
RK22-40W
Series
Dimension
Wattage
CCT
Options

RK = Retrofit Kit

14 = 1x4
22 = 2x2
24 = 2x4

-25W= 25W
-30W = 30W
-40W = 40W

4K = 4000K
-5K = 5000K

LOD = Bi-Level Sensor
EOP = Office On/Off Sensor
EM = Emergency Backup Battery
Performance Data
Part No.
Watts (W)
Input Voltage
(VAC)
Efficacy (Lm/W)
Lumens(Lm)
CRI
CCT (K)
PF
THD
L70 (Hours)
Dimensions in Inches
(L*W*H)
RK-14-25W
22.9
120-277
129
129
133
2942
2942
3057
88
3500
4000
5000
>0.9
15%
156,000
45.83*12*2.84
RK-14-30W
30.4
120-277
127
131
131
3800
4000
4000
85
3500
4000
5000
>0.9
9%
156,000
45.83*12*2.84
RK-14-40W
40.2
120-277
128
128
128
5150
5150
85
4000
5000
>0.9
10%
156,000
45.83*12*2.84
RK-22-20W
20.0
120-277
129
129
133
2580
2580
2660
88
3500
4000
5000
>0.9
15%
156,000
20.67*20.67*2.84
RK22-25W
22.9
120-277
129
129
133
2942
2942
3057
88
3500
4000
5000
>0.9
15%
156,000
20.67*20.67*2.84
RK22-30W
30.4
120-277
127
131
131
3800
4000
4000
85
3500
4000
5000
>0.9
9%
156,000
20.67*20.67*2.84
RK24-25W
22.8
120-277
128
132
2930
3015
88
4000
5000
>0.9
15%
156,000
45.83*20.67*2.84
RK24-30W
31.0
120-277
127
131
131
3900
4000
4000
85
3500
4000
5000
>0.9
17%
156,000
45.83*20.67*2.84
RK22-40W
40.2
120-277
128
128
128
5150
5150
85
4000
5000
>0.9
10%
156,000
20.67*20.67*2.84
RK24-40W
40.0
120-277
126
128
128
5100
5100
5100
85
3500
4000
5000
>0.9
20%
156,000
45.83*20.67*2.84
Color
Housing
Lens Type
Certification
Warranty

Matte White

Sheet Metal
& PC Diffuser

Frosted

ETL

10 Years