The Wall Pack exhibits top-of-class optical performance in a robust, space-efficient casing. Customers have installed our Wall Pack in stairways, tunnels, alleyways, building perimeters, security walls, overpasses, and parking garages. The compact form factor allows for a wide range of use cases. Wall Pack fixtures are rated for use in wet locations and can operate in ambient temperatures of -40º to 40ºC. With higher lumens generated per electricity consumed and superior material design, our fixture designs allow for replacement of much higher voltage fixtures while providing equivalent or higher performance. Now constructed with included photocell sensors and glass lens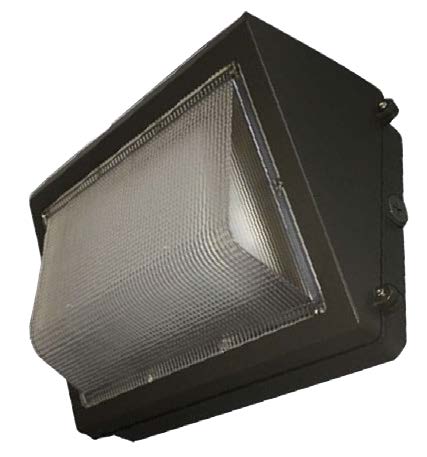 Download Cut Sheet
Optics
The Wall Packs lead their segment for optical performance. With CRI over 80 across standard offerings of CCT 4000K and 5000K, these fixtures offer excellent performance over a broad band of application requirements. The lens is clear glass, carefully fitted for uniform light distribution. Output is tuned for a superior balance of performance and visual comfort.
Construction
The Wall Pack housing is precision manufactured from heavy-wall, die-cast aluminum. Thermal management is integral to the design and our heat sinks facilitate excellent thermal transfer, including at temperatures over 40°C. The back plate contains knockout plates for the installation of add-ons. The Wall Pack is tested for use in wet locations. Now constructed with glass lens and included photocell sensors.
Electrical
Standard input voltage is 120-277V, and 347-480V drivers are available on all units. Luminous efficiency is 117 Lm/W or higher with models available in 28W, 40W, 60W, and 90W.
Mounting
Convenient, modular design means the Wall Pack may be mounted to nearly any vertical surface for secure, reliable, illumination.
Sample Order:
WP-40-50-G3
Series
WATTAGE
CCT
VOLTAGE
DIMMING
FINISH COLOR
GENERATION
OPTIONS

WP=Wall Pack

-28=28W
-40=40W
-60=60W
-90=90W

40=4000K
45=4500K
50=5000K

Blank=100-277V
V=347-480VAC

Blank=1-10V Dimming
ND=Non-Dimming

Blank=Standard

Blank=Current Generation
-G2=Generation 2
-G3=Generation 3

LOD=Bi-Level Sensor
MPC=On/Off Sensor
EKS=Photocell Sensor
EM=Emergency Backup Battery
Performance Data
| PART NO. | WATTS(W) | INPUT VOLTAGE(VAC) | EFFICACY(Lm/W) | LUMENS(Lm) | CRI | CCT(K) | PF | THD | L70(Hours) | DIMENSIONS (L*W*H)(Inches) |
| --- | --- | --- | --- | --- | --- | --- | --- | --- | --- | --- |
| WP-28-40 | 28 | 120-277 | 127 | 3556 | 80+ | 4000 | >0.9 | <20% | 94,000 | 14.29*7.68*9.06 |
| WP-28-50 | 28 | 120-277 | 130 | 3640 | 80+ | 5000 | >0.9 | <20% | 94,000 | 14.29*7.68*9.06 |
| WP-40-40 | 40 | 120-277 | 125 | 5000 | 80+ | 4000 | >0.9 | <5% | 74,000 | 14.29*7.68*9.06 |
| WP-40-50 | 40 | 120-277 | 128 | 5120 | 80+ | 5000 | >0.9 | <5% | 74,000 | 14.29*7.68*9.06 |
| WP-60-40 | 60 | 120-277 | 134 | 8040 | 80+ | 4000 | >0.9 | <13% | 74,000 | 18.31*9.61*9.06 |
| WP-60-50 | 60 | 120-277 | 137 | 8220 | 80+ | 5000 | >0.9 | <13% | 74,000 | 18.31*9.61*9.06 |
| WP-90-40 | 90 | 120-277 | 117 | 10530 | 80+ | 4000 | >0.9 | <13% | 74,000 | 18.31*9.61*9.06 |
| WP-90-50 | 90 | 120-277 | 120 | 10800 | 80+ | 5000 | >0.9 | <13% | 74,000 | 18.31*9.61*9.06 |
| COLOR | HOUSING | LENS TYPE | CERTIFICATION | WARRANTY |
| --- | --- | --- | --- | --- |
| Bronze | Die Cast Aluminum | Glass | DLC Premium ETL | 10 Years |